Tools
Stem Seal Tools
Every new CPV O-SEAL® valve from our valve manufacturing company provides leak-proof assurance to up 6000 PSI (413 bar). Properly maintained they should provide long, reliable service. The stem seals are made of Viton®, Polyurethane, Ethylene Propylene, etc. and should be inspected at appropriate intervals depending on system conditions and frequency of use. To maintain CPV's leak-proof standard after stem seal replacement, the "U" cup installation tool developed by CPV should be used. This tool is easy to use and enables users to replace a stem seal in less than a minute. By compressing the outer sealing lip and expanding the inner lip, the kit makes it easy to slip the "U" cup stem seal over the valve stem. Once the stem seal is properly installed on the valve stem, it can be easily inserted into the bonnet gland and secured without damaging the critical edges of the seal. A CPV Replacement Soft Goods Kit can also be ordered in the pipe size and soft goods material specified for the user's application. This kit contains one of each: stem seal, body O-Ring, back-up ring, and seat O-Ring.
Applicable Valve Part Numbers for the Tool Part No. below:
O-SEAL® Shutoff: 365, 370, 371, 380, 381, 382
O-SEAL® Needle: 465, 470, 471, 480, 481, 482
O-SEAL® Stop-Check: 565, 570, 571, 580, 581, 582
OXNB® Shutoff: 380-P-OXNB-VC
OXNB® Needle: 480-P-OXNB-VC
OXNB® Stop-Check: 580-P-OXNB-VC
G-Series® Shutoff: G_SG
G-Series® Needle: G_NG
FloMaster® O-SEAL®: 1380, 1381, 1480, 1481
FloMaster® G-Series®: G_SG-NC, G_SG-NO, G_NG-NC, G-NG-NO
FloMaster® OXNB®: 1380-OXNB-VC, 1480-OXNB-VC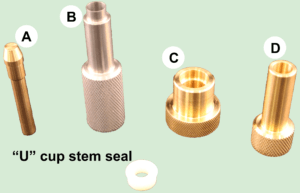 Dash Number
Pipe Size
Tube Size
Tool Part No.
Stem Seal Part No.*
-0
-1
1/8
1/4
1/4
3/8
056930
001905-*
-2
3/8
1/2
056932
001909-*
-3
-4
1/2
3/4
3/4
1
056933
001919-*
-5
1
1 1/4
056935
001927-*
-6
1 1/4
1 1/2
056936
001935-*
-7
-8
1 1/2
2
2
2 1/2
056937
001953-*
---
Valve Spacers
Valve Spacers CPV Valve Spacers are the exact face-to-face dimension of CPV O-SEAL® valves. They can be used to protect valves during installation, and can be reused again and again for maintenance operations.
Our valve manufacturing company's O-SEAL® valves provide years of reliable service. However, the heat of welding or brazing during installation can compromise the cleanliness and/or integrity of the O-SEAL® valve. Using CPV's hollow core valve spacers enables users to avoid that risk. These spacers replicate the exact face-to-face dimension of the O-SEAL® valve being installed. After welding or brazing has taken place, the entire system can be flushed. The spacer is then slipped out and the valve slipped in. Users are thus assured of both a perfect fit and a leak-proof connection for years to come. Moreover, once the O-SEAL® valve is in service, the valve spacer can be saved and re-used over and over again. For example, if flushing the system could cause problems or contaminate the O-SEAL® valves, users simply slip the valves out and slip the spacers in.
To order, enter the letter "F" in front of the part number for the CPV O-SEAL® valve you are installing. Be sure to specify the complete part number for each spacer you wish to order, including the size code or "dash" number. For example:
F-380-3 (spacer for Globe Valve No. 380-3, size 1/2")
F-381-4 (spacer for Angle Valve No. 381-4, size 3/4")
F-123A-5 (spacer for Check Valve No. 123A-5, size 1")
---
Valve Flush Plugs
If one section of a piping system needs to be altered, cleaned or flushed, CPV O-SEAL® Flush Plugs from our valve manufacturing company can be used to protect the rest of a system from contamination. Simply remove the valve cartridge and insert the appropriate Flush Plugs into the O-SEAL® valve bodies at either end of the affected area and the rest of the system will be totally cut off from the cleaning or flushing process.
There are three types of flush plugs available: Under-Seat, Over-Seat, and Flow-Thru.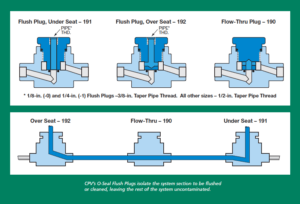 As can be seen in the schematic drawings, the Over-Seat and Under-Seat have threaded connections in the top of the plug for trouble-free connection to the flushing pump. The Flow-Thru Plugs are intended for insertion in valves located in the middle of the section being flushed or cleaned. Once installed, these plugs allow the flush to flow through without contaminating the O-SEAL® valve cartridges. When these valve bodies are equipped with O-SEAL® Flush Plugs, future system expansion or section flushing will be much easier.
Ordering Part Numbers as follows:
Part No. 190: Flow-Thru Plug
Part No. 191: Flush Plug, Under Seat
Part No. 192: Flush Plug, Over Seat