Direct Weld® Fittings
Unmatched Quality, Affordable Permanent Connections for Mission-Critical Systems
Direct Weld® Fittings are cost-effective, durable permanent connection fittings and adapters designed for high-pressure applications and mission-critical systems requiring unmatched reliability. These budget-friendly fittings offer remarkable system versatility and are essential components in life support systems in aerospace and challenging undersea environments.
CPV fittings are engineered to withstand demanding conditions, including harsh pressure, vibration and temperature extremes. They are also resistant to corrosion and abrasion, ensuring long-term performance even in grueling settings.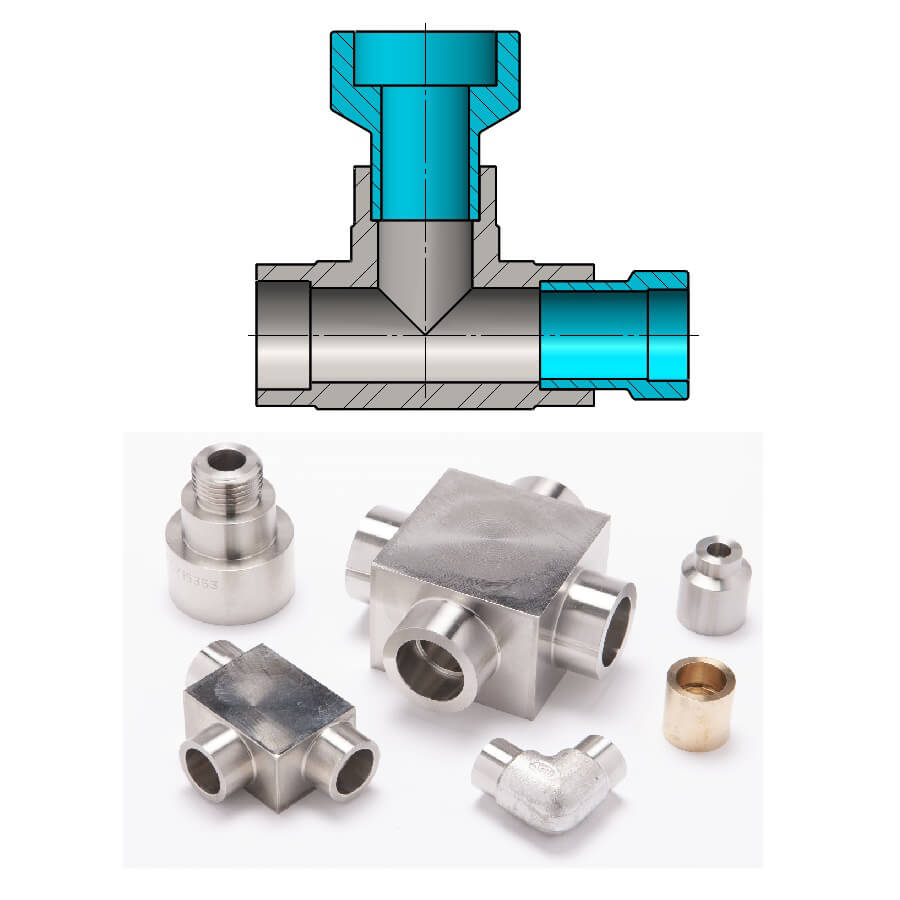 Direct Weld® Fittings

Features and Benefits:
Premium machining results in perfect welds and brazed joints, for all applications.
A secure, strong and durable connection significantly reduces the chance of a leak or contamination path, ensuring the integrity of your system.
Wide range of configurations and sizes that can be used individually or in conjunction with other CPV product lines gives you the power to optimize for your application.
Elbows, Tees, Crosses and Straight couplings provide precise flow direction control while efficiently maximizing available space.
Flexibly adapt your pipe and tube connections with Reducing and Increasing Adapters, Inserts and Couplings.
Companion components for O-SEAL® and Mark VIII® fittings make it easy to create custom systems that provide exceptional system versatility.
ATTRIBUTE
VALUE
Pressure Rating
From vacuum up to 6000 PSIG (414 BAR);
Select products up to 7500 PSIG (517 BAR)
Line Size Options
1/4" to 2.00" Tube Size;
Select products available with Pipe and Tube connections
Configure Product and Download Datasheets
Please use the below guide to find fittings with specifications to meet the demands of your specific application. Begin by selecting a fitting type and the selection tool to help you identify the part number of the fitting you require. From there you can view the data sheet or request a quote. CPV is a professional pipe fitting manufacturer that has a wide variety of both stainless steel and weld fittings.
FAQ
What are Direct Weld® Fittings?
Direct Weld® Fittings are pipe fittings that are welded or brazed directly to the pipe. This creates a strong permanent connection. They are made from a variety of materials, and available in a wide range of sizes and configurations, making them suitable for a variety of applications.
How do I choose the correct Direct Weld® Fittings?
The operating conditions for your specific application guide the selection of the proper direct weld® fittings. Begin by defining your application's requirements, considering factors like fluid type, pressure, temperature and material compatibility. Match the fitting size and type to your system's needs, to safely handle system pressure.