O-SEAL® Fittings
Precise High-Pressure Liquid and Gas Control with Bubble-Tight Performance
O-SEAL® Fittings are the ultimate solution for precise control of high-pressure liquids and gases across a diverse range of industries, Including Aerospace, Compressed Gas, Drilling, Petrochemical, Refining and Shipbuilding. CPV takes pride in delivering unique union O-Ring Face Seal (ORFS) fittings that redefine reliability and flexibility for your fluid system requirements.
In these demanding sectors, where precision and performance are paramount, O-SEAL® Fittings stand as the pinnacle of engineering excellence. The unique O-Ring Face Seal design represents the culmination of years of innovation and industry expertise, ensuring that your operations can achieve unparalleled efficiency and flexibility for all your system needs.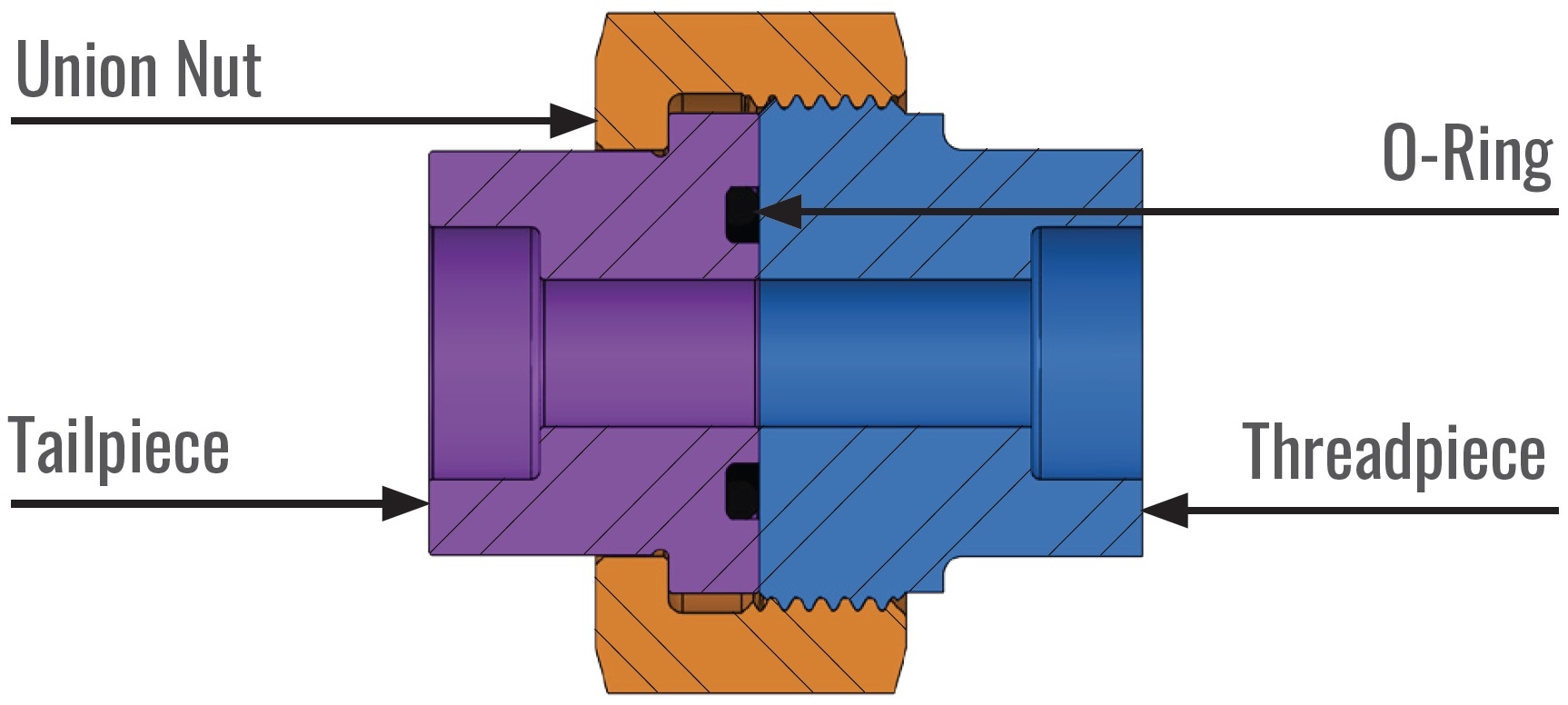 O-SEAL® Fittings

Features and Benefits:
A comprehensive line of 3-Piece Fitting Assemblies with O-Ring Face Seal connections (ORFS) that resist over-torque and stay sealed during vibration for a variety of high-pressure applications.
Bubble-tight, self-sealing separable connections are utilized that provide the same leak-proof performance as a heat-sealed system.
Straight, elbow, cross, and tee fittings offer versatile solutions to cater to your unique requirements, whether you need to alter flow direction, link multiple pipes or create branches from a primary pipe.
Flexible break-remake sealing connections allow for easy disconnect and reconnect when necessary and ensure a reliable seal even in dynamic environments.
Seamless integration with reliable O-SEAL® valve end connections create a simple installation and operation.
ATTRIBUTE
VALUE
Pressure Rating
From vacuum up to 6000 PSIG (414 BAR);
Select products up to 7500 PSIG (517 BAR)
Temperature Rating
-70°F to 400°F (-56°C to 205°C)
Line Size Options
1/8" through 3.00" Pipe Sizes; 1/4" through 3.50" Tube Sizes
Configure Product and Download Datasheets
Please use the below guide to find fittings with specifications to meet the demands of your specific application. Begin by selecting a fitting type and the selection tool to help you identify the part number of the fitting you require. From there you can view the data sheet or request a quote. CPV is a professional pipe fitting manufacturer that has a wide variety of both stainless steel and weld fittings.
FAQ
How well do O-SEAL® Fittings stand up to vibration?
In the world of industrial gas and fluid systems CPV understands fittings must endure extreme torque, relentless vibrations and harsh environments. CPV O-SEAL® Fittings are equipped with a unique union O-Ring Face Seal (ORFS) design to excel in these conditions.
CPV's precision-designed fittings resist over-torque and vibrations, ensuring an uninterrupted seal, while robust exterior plating guarantees durability and rust resistance. They redefine reliability in industrial applications.
Why is the fit of an O-Ring Face Seal (ORFS) fitting so important?
When considering the integration of ORFS fittings into a high-pressure system, it becomes crucial to select the right product. ORFS fittings find applications in a wide array of industries, including oil and gas, military, marine systems, agriculture, transportation and more, all of which deal with high-pressure gases and fluids.
High-pressure gases and hydraulic fluids necessitate precisely controlled environments for their movement and storage. Furthermore, some gases and liquids can be highly volatile. In such scenarios, the consequences of leaks can be not only damaging but also extremely hazardous. This underscores the paramount importance of the fit.
To ensure the utmost reliability, ORFS fittings must be meticulously designed to secure a custom tubing system. They require specialized and innovative design features to prevent leaks and to ensure the O-Ring seal remains secure and free from slipping or pinching under prolonged strain.