CPV Manufacturing Receives ISO 9001:2015 Certification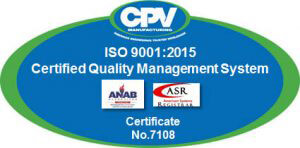 Kennett Square, PA – April 20, 2018 – Admiral Valve, LLC dba CPV Manufacturing announces receipt of their ISO 9001:2015 certification on April 6, 2018, for their quality management system in the design and manufacture of high-pressure valves and fittings.
The ISO 9001:2015 certification further expands CPV's commitment to quality management and its dedication to having the highest standards in the industry. It's evidence that the company has established a quality management system that is in conformance with the International Quality System Standard.
"We're proud to be able to say that we've earned this certification," said David London, President. "It proves to the world that we are 100 percent committed to the quality of our products and to customer satisfaction on a global scale."
The nine-month certification process involved all employees and management at all levels, going beyond the quality control team to the entire organization. All staff, from the top of the organization down, must show that they know and understand their responsibilities for the certification to be granted. Mandatory ongoing audits serve to ensure that the quality management system is being employed effectively.
ISO (International Organization for Standardization) is an independent, non-governmental organization consisting of 161 countries. It develops quality management standards that are used worldwide, playing an important role in international trade.
ISO 9001:2015 certification is voluntary and is the only ISO Quality Management Standard for which companies can be certified. It encompasses a strong customer focus, the involvement of all personnel, and the actual processes and systems.
CPV chose American Systems Registrar, LLC of Wyoming, MI, an international provider of third-party system registration accredited by the ANSI-ASQ National Accreditation Board, as their partner in the ISO 9001:2015 certification.
CPV Manufacturing is a world-class manufacturer of high-pressure valves and fittings. An industry leader for over 100 years, CPV specializes in manufacturing high-quality valves and fittings for industries such as petrochemical, industrial gas, and shipbuilding as well as for US Navy ships.
About CPV Manufacturing
CPV Manufacturing was founded in 1915 as a one-man business manufacturing replacement valves for steam-driven reciprocating pumps. Today, CPV is recognized worldwide for its high-quality valves and fittings, and for its dedication to state-of-the-art design, safety, and reliability. CPV Manufacturing's valves withstand the high tolerances required by the maritime, industrial gas and petrochemical industries. Based in Kennett Square, Pennsylvania, CPV has a complete facility for developing, manufacturing and testing its products. Dedicated workers and global partnerships allow CPV to be a market leader. For more information, visit www.cpvmfg.com.
Media Contact:
Charlottie Eoppolo
CPV Manufacturing
CEoppolo@cpvmfg.com
215-386-6508