How to Prevent and Control Ship Corrosion
Corrosion has been a common cause of damage in ships for years. It can cause the body of the ship to deteriorate, destroy tanks, and much more. Fortunately, it's manageable when you know how to prevent and control ship corrosion.
Here are a few tips that can help you to prevent and control ship corrosion.
Apply Coatings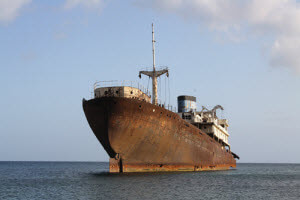 One of the most effective ways to prevent and control ship corrosion is to apply coatings to parts that are most susceptible to corrosion, such as the hull. This area of the ship sits below the waterline, so it experiences more exposure to damaging salts and minerals. Applying two-part coal-tar epoxy and a vinyl tar coat can help to protect it.
The deck is also susceptible to corrosion, especially during adverse weather conditions. During storms or strong tides, seawater can wash up on the deck and lead to surface damage. Repainting the deck can help to remedy the damage, but it's best to apply an alkyd and chlorinated rubber coating to ensure protection from seawater and everyday wear and tear.
Corrosion in cargo tanks is also common. This happens when the sulfur and water in crude oil mixes with water vapor. Microbes can also break down the tank's protective coating.
To protect and preserve the integrity of the vessel, many have noted that new methods of coating can help. In fact, a Bloomberg article states that tanks with these coatings could save about $240 million in maintenance for 10 to 20 years.
Select the Right Materials
Corrosion can cause severe damage depending on the material of the ship and tanks. Many metals are more affected by corrosion than others, so it's important to take that into consideration when replacing and building parts.
Stainless steel and plastics are more resistant to corrosion, and certain nickel alloys and titanium alloys are specially designed for corrosion prevention and ideal materials to ensure the optimum protection and longevity of the ship.
Following a Maintenance Procedure
With the proper maintenance procedure, ships are less likely to suffer from corrosion. Following a maintenance plan will help you to spot any early signs of damage and take the steps needed to fix the issue before the amount of damage escalates.
However, this can mean additional costs, but many have found a cost-effective solution through outsourcing maintenance. In the Bloomberg article, Matt Koch, the Marines' program manager for corrosion prevention and control, said they save more because of a 2005 decision to outsource the maintenance of vehicles.
Protect Electrical Circuits
Keeping electrical circuits on your ship dry can help to prevent and control corrosion. To do this, use waterproof insulation around cable connectors.
Electrical bonding is a recommended as well. This method involves tying all underwater metals together with wires or bonding strips to bring them to the same potential. This prevents stray currents from causing corrosion.
Ship corrosion can cause devastating damage to any vessel, so use the tips above to help to prevent and control corrosion on your ships.
For more industry tips, read CPV Manufacturing's blog.