Letter to Our Customers Concerning COVID-19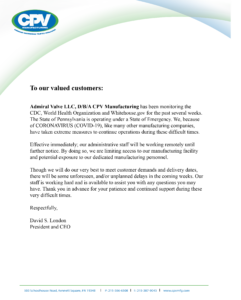 (This Letter States)
To our valued customers:
Admiral Valve LLC, D/B/A CPV Manufacturing has been monitoring the CDC, World Health Organization and Whitehouse.gov for the past several weeks. The State of Pennsylvania is operating under a State of Emergency. We, because of CORONAVIRUS (COVID-19), like many other manufacturing companies, have taken extreme measures to continue operations during these difficult times.
Effective immediately; our administrative staff will be working remotely until further notice. By doing so, we are limiting access to our manufacturing facility and potential exposure to our dedicated manufacturing personnel.
Though we will do our very best to meet customer demands and delivery dates, there will be some unforeseen, and/or unplanned delays in the coming weeks. Our staff is working hard and is available to assist you with any questions you may have. Thank you in advance for your patience and continued support during these very difficult times.
Respectfully,
David S. London
President and CEO