Repair Kits for O-SEAL Valves
Soft Goods Replacement Kits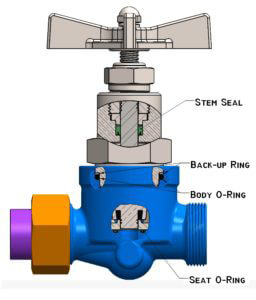 In the event that the sealing elements used in an O-SEAL® system valve ever need replacement, a repair kit can be obtained containing all four of the items required. To order a soft goods replacement kit, determine the proper material grouping shown across the top of the chart below. Read down the column and select the Kit Number on the horizon line matching the valve size or Dash Number.
For example:
A 1/2 in. 380-3 Globe valve requires a soft goods kit. The valve is used in compressed air service, and the compressor is lubricated with a petroleum-based oil. The materials listed in the first column under Material Grouping B are satisfactory for this service.
Continue down this column to the line for Dash No. -3 (1/2 in. pipe size) to determine that the Kit Number is 003803.
Applicable Valve Part Numbers for the Kit Part Number below:
O-SEAL® Shutoff: 365, 370, 371, 380, 381, 382
O-SEAL® Needle: 465, 470, 471, 480, 481, 482
O-SEAL® Stop-Check: 565, 570, 571, 580, 581, 582
FloMaster® O-SEAL®: 1380, 1381, 1480, 1481
Material Grouping
Stem Seal
Installation
Part No.
Kits Items
Qty.
B
C
D
G
N
V
Stem Seal
Body O-Ring
Back-up Ring
Seat O-Ring
1 ea.
1 ea.
1 ea.
1 ea.
Polyurethane
Nitrile (NBR)
Teflon™
Nitrile (NBR)
Viton®
Viton®
Teflon™
Viton®
Ethylene Propylene
Ethylene Propylene
Teflon™
Ethylene Propylene
Polyurethane
Viton®
Teflon™
Viton®
Polyurethane
Ethylene Propylene
Teflon™
Ethylene Propylene
Viton® w/ Expander O-Ring
Viton®
Teflon™
Viton®
Temperature Range
-30°F to 180°F (-34°C to 82°C)
-15°F to 400°F (-26°C to 204°C)
-70°F to 250°F (-57°C to 121°C)
-15°F to 180°F (-26°C to 82°C)
-40°F to 180°F (-40°C to 82°C)
-15°F to 400°F (-26°C to 204°C)
Dash No.
Pipe Size
OD Tube
Kit Part Number
-0
1/8
1/4
003800
003810
003820
003840
003870
003890
56930
-1
1/4
3/8
003801
003811
003821
003841
003871
003891
-2
3/8
1/2
003802
003812
003822
003842
003872
003892
56932
-3
1/2
3/4
003803
003813
003823
003843
003873
003893
56933
-4
3/4
1
003804
003814
003824
003844
003874
003894
-5
1
1 1/4
003805
003815
003825
003845
003875
003895
56935
-6
1 1/4
1 1/2
003806
003816
003826
003846
003876
003896
56936
-7
1 1/2
2
003807
003817
003827
003847
003877
003897
56937
-8
2
2 1/2
003808
003818
003828
003848
003878
003898
*Maximum temperature rating of standard valve assembly is limited by Nylon Disc at 275°F (135°C).
**Note: If a Vacuum Service valve is ordered (-VC), simply add "-VC" to the end of the Kit Part Number to ensure that the additional soft goods will be supplied for that -VC valve. Example: 003813-VC
O-Ring & Stem Seal Temperature Ratings
Nitrile (NBR)
-30°F to +250°F (-34°C to 121°C)
Viton® (Fluorocarbon)
-15°F to +400°F (-26°C to 205°C)
EPDM (Ethylene Proplyene)
-70°F to +250°F (-57°C to 121°C)
Polyurethane
-40°F to +180°F (-40°C to 82°C)
---
Soft Goods Ordering Kit for OXNB® Valves
Applicable Valve Part Numbers for the Kit Part Number below:
OXNB® Shutoff: 380-P-OXNB-VC
OXNB® Needle: 480-P-OXNB-VC
OXNB® Stop-Check: 580-P-OXNB-VC
FloMaster® OXNB®: 1380-OXNB-VC, 1480-OXNB-VC
Valve
Size
Kit
Part Number
-0
005600
-1
005601
-2
005602
-3
005603
-4
005604
-5
005605
Component
Material
O-rings and Stem Seal
Viton® Fluorocarbon Type 1,
Class 2 (90 durometer)
Seat Ring
Copper
Backup Ring, Gasket
Teflon® PTFE
---
Soft Goods Ordering Kit for –NC Normally Closed Air Cylinder
Applicable Valve Part Numbers for the Kit Part Number below:
FloMaster® O-SEAL®: 1380-NC, 1381-NC, 1480-NC, 1481-NC
FloMaster® G-Series® G_SG-NC, G_NG-NC
FloMaster® OXNB®: 1380-OXNB-VC-NC, 1480-OXNB-VC-NC
Valve
Size
Kit
Part Number
-0
005800
-1
005801
-2
005802
-3
005803
-4
005804
-5
005805
---
Soft Goods Ordering Kit for –NO Normally Open Air Cylinder
Applicable Valve Part Numbers for the Kit Part Number below:
FloMaster® O-SEAL®: 1380-NO, 1381-NO, 1480-NO, 1481-NO
FloMaster® G-Series® G_SG-NO, G-NG-NO
FloMaster® OXNB®: 1380-OXNB-VC-NO, 1480-OXNB-VC-NO
Valve
Size
Kit
Part Number
-0
005900
-1
005901
-2
005902
-3
-4
-5
005905