CPV's New CFC-50 Cryogenic Check Valve Is Ideal for Cold Flow Industrial Gas Applications – And Is In Stock!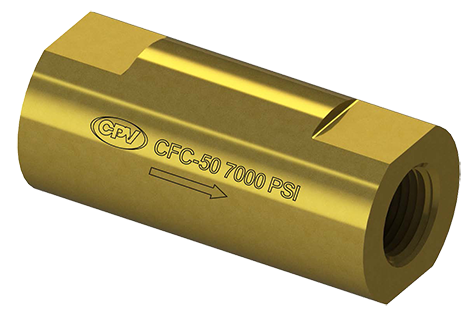 CPV Manufacturing introduces its newest line addition, the CFC-50 cryogenic check valve, optimized for numerous cryogenic and non-cryogenic industrial gas applications. It features a compact, inline design for strength and durability and offers excellent resistance to cold flow. The standard, off-the-shelf model CFC-50 is rated for 7000 PSIG (483 BAR) and a temperature range of -400° F to 380° F (-240° to 194°C).
CPV prioritizes parts availability to keep customers in supply when every day of downtime can have critical consequences for business operations and profitability. This new valve fulfills a need expressed by customers for an available, reliable inline valve that meets specifications for gas filling operations that handle cryogen and hydrogen, among other types of gases.
Chemical compatibility a key consideration
The new CFC-50 valve features a body and retainer fabricated with naval brass, for a long service life. The guide portion of the valve utilizes Kel-F® (PolyChloroTriFluoroEthylene), a unique fluoropolymer that offers excellent mechanical and physical properties and a high degree of chemical resistance.
PCTFE is also known for its low thermal expansion coefficient, making it an ideal polymer for use in lower temperatures. Its broad range of chemical compatibility compared to other fluoropolymers make it an ideal choice for gas filling and handling operations subject to temperature extremes.
Excellent flow rate without backflow concerns
The valve's flow coefficient of 3.53 Cv translates into better control of the flow rate, or greater flow with less pressure drop across the valve. This can improve system performance and reduce energy consumption. The high Cv value also helps reduce wear and tear on other system components, such as pumps, by reducing the need for higher pressure differentials to achieve the desired flow rate.
Similar to other check valves manufactured by CPV, this new valve helps prevent water hammering or backflow, superior to other valves in the market due to the lack of rattling or vibration. This valve is designed for cryogenic and non-cryogenic industrial gas services, including the critical requirement of bulk tanks and gas filling applications, liquid natural gas (LNG) or the petrochemical industry.
In a cryogenic gas filling operation, for example, an inline check valve prevents the gas from flowing back into the storage tank or supply line when the filling process is completed. At its core, the valve features a spring assisted disc that shut off the valve when forward flow stops.
The valves are designed for smaller sized pipelines of up to two inches. Types of gases handled at industrial gas filling operations could include hydrogen, oxygen, nitrogen (the gas commonly used in cryogenic applications), argon or even methane, which can be stored in cryogenic liquid form.
Higher pressure ratings expand service application potential
In terms of pressure, some customers, especially in the hydrogen service area, are looking for valves that can handle higher ratings of 10,000 or even 15,000 psi. The alternative fuels market is pushing increased hydrogen demand, as it replaces fossil fuels for vehicles and transportation purposes.
Technologies associated with these hydrogen applications require high pressure ratings compared to other types of services. While the new CFC-50 cryogenic check valve is currently rated up to 7,000 psi, but for custom orders, CPV can modify the material to enable pressure ratings of 10,000 psi.
Cryogenic technology and equipment demands
Globally, the cryogenic equipment market is growing at a CAGR of 8.9%, putting increased demand on parts and components already in short supply. Cryogenics liquefies industrial gases to enable easier transport and storage. The process involves extremely cold temperatures of -150° C and below. These temperature extremes can place stress on equipment and parts.
Improper material selection or poor-quality manufacturing creates valves that become brittle and prone to failure. The consequences can include leaks, pressure drop or other issues that compromise the safety and efficiency of gas filling or handling operations.
CPV Manufacturing expedites supply
CPV focuses on its core business—the design, fabrication and modification of valves to serve industrial purposes. Due to its singular focus, CPV has prioritized supply chain management to obtain the materials it requires for manufacturing. For example, there is currently a worldwide shortage of PTCFE with common lead times stretching to 52 weeks or more. CPV can offer its customers this new valve, created with a guide formed of PCTFE within a much more reasonable lead time compared to alternatives.
All valves manufactured by CPV conform to the established ASME Boiler and Pressure Vessel Code. CPV offers best-in-class inline check valves designed to meet the highest quality standards and provide years of trouble-free use. Trust CPV check valves in general to:
Protect against backflow
Improve system efficiency
Prevent water hammer
Reduce noise
Looking for a new supplier of inline check valves for cryogenic or other industrial gas filling operations? Find a better solution with an available supply at CPV Manufacturing. Contact us today.