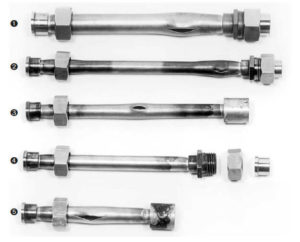 Mark VIII® Fittings
Mark VIII® fittings from CPV. Always a perfect match with your system.
The design of Mark VIII® fittings assures leakproof connections in gases or liquids up to 6000 psi. The union connections in this system are flat faced with a resilient O-ring incorporated into a close tolerance groove on one side of the body. Low torquing of the union nut compresses the O-ring to seal the connection.
These fittings make it easier, faster and more economical to change out gauges or other components that require regular replacement. They are available in couplings, tees, elbows, crosses and reducers in sizes from 1/4 to 2 OD. CPV also offers a complete system of valves (shutoff & needle) to compliment the Mark VIII® fittings.
Mark VIII® fittings can be heat sealed into a system by welding, orbital welding or brazing. Brazing can be done with elementary tools and requires very little training. The test data and photos to the right demonstrate the durability of Mark VIII® Fittings when they are brazed to brass, copper, steel and stainless steel tubing with a hand held propane torch. Each tubing section was hand-tight assembled on the end of a hydraulic pump before pressurization.
In every case the tubing failed before the Mark VIII® Fittings. In fact, the burst pressures of 9,000 to 16,000 psi substantially exceeded the 6000 psi rated pressure of these Mark VIII® Fittings.
CPV has been a leading manufacturer of valves and fittings since 1915. The company's innovative designs are well suited to standard applications, as well as one-of-a-kind custom requirements.
Test No.
Tubing Material
Tubing OD and Wall
Mark VIII® Tailpiece
Mark VIII® Threadpiece
Tube Burst Pressure
1
Brass
1/2 x .062
Stainless Steel
Steel
14,000 psi
2
Copper
3/8 x 16 gage
Steel
Stainless Steel
9,000 psi
3
SAE 1010Carbon Steel
3/8 x 0.35
Stainless Steel
Brass Cap
10,500 psi
4
Stainless Steel
3/8 x 1/16
Stainless Steel
Steel
*
5
Stainless Steel
3/8 x 1/32
Stainless Steel
Brass Cap
16,000 psi
*Test was terminated at 28,000 psi.