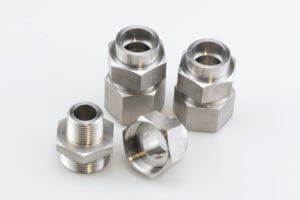 Union Nut Torque Values for Mark VIII® Cat. H850N
The following torque values should be used for tightening CPV Mark VIII® Union Nuts when making up a joint.

The values apply to joints installed into a piping system. They do not apply for stock assembly or, for shipping assembly. In the latter case hand tight is acceptable.

The minimum values establish the lower limit for permanently made up joints. Torque values below the minimum may be used for temporary service. Torque values larger than the maximum are not recommended without consulting the CPV Manufacturing engineering department.
Union Nut
Torque
Product Category:
Tube Size
In.-Lbs.
Min.
Max.
*Max*
H850N-02
1/8″
12
24
60
H850N-04
1/4″
18
36
90
H850N-06
3/8″
24
48
120
H850N-08
1/2″
36
72
150
H850N-10
5/8″
60
120
240
H850N-12
3/4″
108
216
330
H850N-16
1.00″
180
360
450
H850N-20
1.25″
264
528
540
H850N-24
1.50″
360
720
720
H850N-32
2.00″
720
1440
1488
*(Fittings may require greater torques for applications with ambient vibration)*