New Ergonomic Valve Handles
Kennett Square, PA, USA (4/11/22) – Admiral Valve, LLC dba CPV Manufacturing Launches the Next Generation of Ergonomic Handles
CPV Manufacturing has reimagined the design of its O-SEAL® and G-Series® valve handles to deliver unparalled efficiency to operations in piping systems. CPV is delighted to finally introduce the new, functional, ERGONOMIC handles to customers worldwide.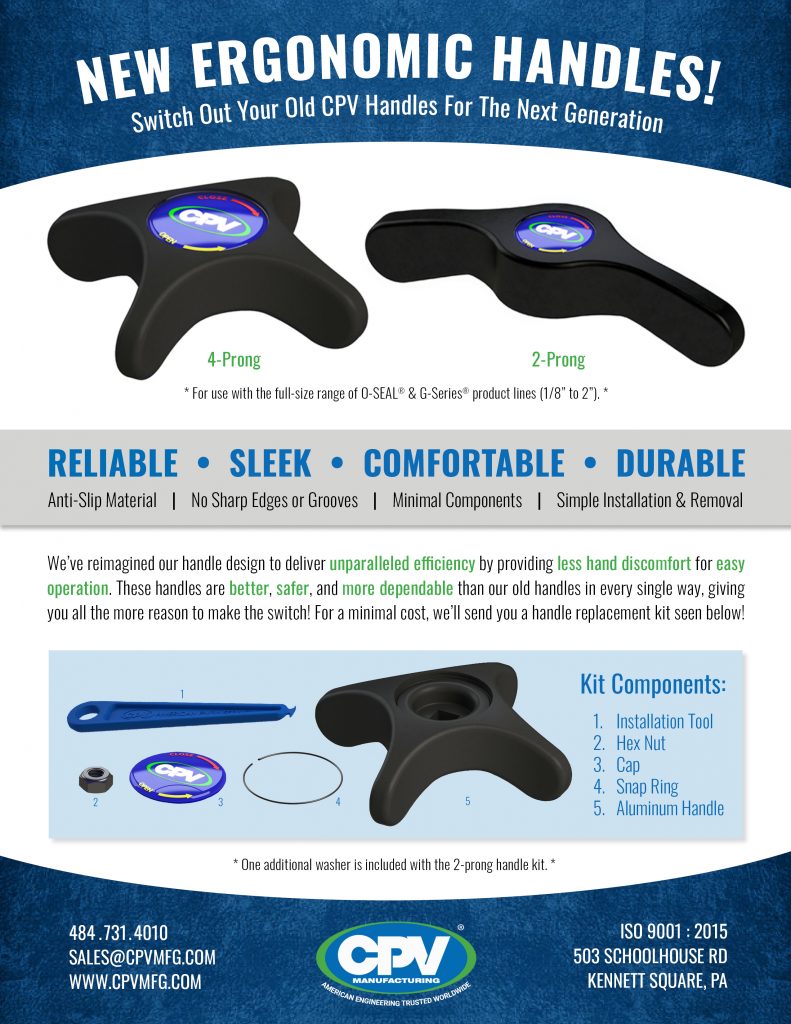 The next generation of handles provide less hand discomfort and easy operation to workers that maintain CPV valves on a regular basis. These innovative handles will now be included with the purchase of the full-size range of CPV O-SEAL® and G-Series product lines, in place of the old handles.
CPV's Next Generation of handles are better, safer, and more dependable than the previous handles in every single way. With a sleek design, the new handles are made with an anti-slip material and utilize smooth edges, allowing for a better grip. This makes operating the valves that much easier. The handles are available in 4-Prong and 2-Prong configurations to suit specific valve sizes.
CPV manufacturing is 100% confident that these handles will provide lasting value to not only future customers who will purchase O-Seal® and G-Series® valves with the new handle, but also to previous customers. CPV is offering the opportunity for existing customers, who currently employ these valves in service, to switch out their old valve handles with the next generation.
For a minimal cost, CPV will send a replacement kit, fit for certain specifications, that includes an installation tool, hex nut, cap, snap ring, and an aluminum handle. Using the kit, customers will be able to replace their old handles in less than a minute and reap the benefits of the replacement for the entire lifespan of CPV valves (30+ years)!
To view how simple the installation/removal process is, CPV has created an in-depth YouTube tutorial to watch, here and an instructional blog to read, here.
If you have any questions or wish to order a handle replacement kit, contact CPV today at Sales@cpvmfg.com.
---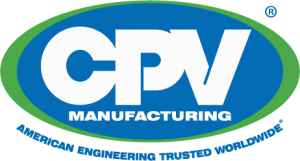 CPV Manufacturing was founded in 1915 as a one-man business, manufacturing replacement valves for steam-driven reciprocating pumps. Today, CPV is recognized worldwide for its high-quality valves and fittings and dedication to state-of-the-art design, equipment, safety, and reliability. CPV Manufacturing's valves withstand the high tolerances required by the maritime, industrial gas, and petrochemical industries. Based out of Kennett Square, PA, USA, CPV has a complete facility for developing, manufacturing, and testing its products. Dedicated workers and global partnerships allow CPV to be a market leader.